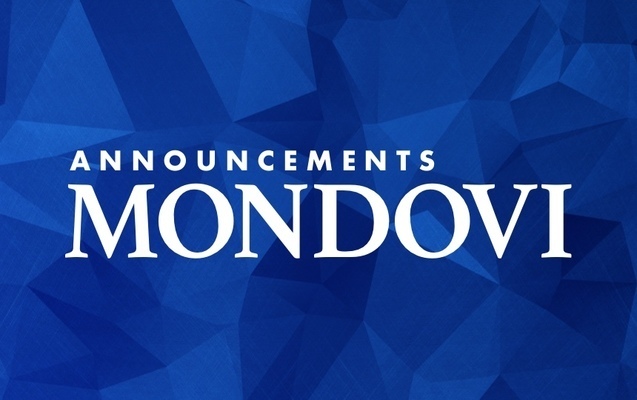 High School Announcements 1/13/2020
Sara Heike
Monday, January 13, 2020
WIN 1 Meetings: (Remember to have attendance taken in your WIN 1 before reporting to meetings)
Monday, January 13th: Senior class officers meet in Mrs. Stadter's room.
Monday, January 13th: Fair exhibitors meeting in Ms. White's room. Anyone who shows at the fair with the Mondovi FFA MUST attend.
Wednesday, January 15th: Full council student council meeting in Mrs. Berger's room. There will also be full council student council meetings January 22nd & January 29th.
Thursday, January 16th: Full council student council meeting in Mrs. Berger's room.
Wednesday, January 22nd: History Club students attending the field trip on January 24th need to meet in Mrs. Flaherty's room for a reminder meeting.
Thursday, January 23rd: Winter Carnival assembly in the multi.
Friday, March 6th: Sophomore class meeting in the IMC.
General Announcements:
Permission slips to leave after finals have been emailed to your school email accounts. Forms are also available in the office. Please plan ahead-you can leave directly from your last exam without signing out at the office with the signed slip! Please see your email or the slip for more info.
Junior & Senior Boys: If interested in running for the honor of Mr. Mondovi, see Austin George or Mrs. Berger.
FFA Meeting: Tuesday during WIN 2 in Ms. White's room.
History Club Field Trip: Any History Club member attending the field trip on January 24th MUST have paid for the bus and turned in a permission slip by Friday, January 17th. If you have not paid by Friday, you will not be eligible to attend the movie.
Attention Golfers: Open gym begins Wednesday, January 22nd, at 7:00am in the Multi-Gym. See Coach Walk for more details.
Seniors: Please check your email from Mrs. Fath. We are trying to finalize the Senior Future Plans Page and the Senior Credits Pages by February 14th. Review the attached PDF files and reply to Mrs. Fath's email if you see any other changes that need to be made to these pages.
FFA Week: February 17th-21st (no school Monday), events are as follows: Tuesday: FFA dress & Ag Olympics during WIN 2, Wednesday: Staff Breakfast & Drive Your Tractor to School day, Thursday: Malt Day, Friday: Tubing Trip to Badlands.
Purchase your yearbook before it's too late! The price is $50 and it must be ordered by February 21st to guarantee you will receive one in the Spring! Order online at Jostens.com or see Mrs. Fath if you have questions. Check the printed lists on Mrs. Fath's computer lab door if you are unsure if you already ordered.
Speed School: Mondays and Thursdays from 3:40-4:20. Open weight room is Tuesdays and Fridays from 3:40-4:30.
Youth Archery Workshops: Anyone interested in the Conservation Club's archery workshops should pick up an informational sheet in the office. Dates and times are listed on the sheet as well as contact information.